Utility looks to reduce nutrient contamination from agricultural areas.
Since this appears to be an agricultural problem, you have to wonder why the utility company is being punished.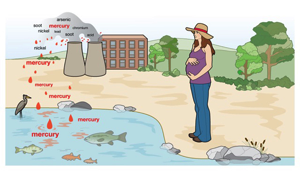 A multiyear study of mercury contamination is underway in a three-dam hydroelectric project on the Idaho-Oregon border that's part of a power company's effort to renew its license with the federal government.

Idaho Power says the five- to eight-year study now in its second year is needed to better understand the high mercury levels in fish in the Hells Canyon Complex on the Snake River.

The mercury working its way up the food chain appears to be the result of a chain reaction that starts with nutrients from upstream agricultural areas, according to scientists with the U.S. Geological Survey who are running the study.

Researchers say 96 percent of smallmouth bass in the system contain so much mercury they're unsafe to eat under Oregon standards. Under Idaho's less stringent standards, that drops to 31 percent.

"The mercury concentrations of fish within the complex are up to five times higher than within fish upstream of the complex," said Austin Baldwin, a hydrologist with the U.S. Geological Survey based in Boise.

The elevated mercury levels in fish also extend at least 60 miles downstream to the Salmon River confluence.

The high mercury levels are preventing the utility from obtaining approval from Oregon and Idaho, and that's preventing the Federal Energy Regulatory Commission from issuing the company a new, multi-decade license. The previous 50-year license expired in 2005, and the company has since been operating the complex on annually issued licenses.

The company supplies electricity to customers in southern Idaho and eastern Oregon, and the Hells Canyon Complex is one of its key power producers.
Via the Associated Press