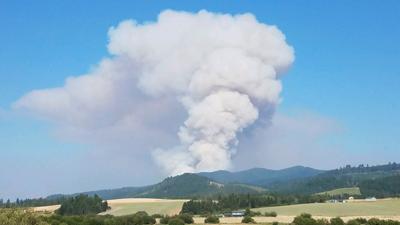 To all my friends in the Harvard area: stay safe. 
The Sand Mountain Fire in North Latah County continues to grow with zero percent containment.

The blaze outside Harvard just East of Laird Park is at a thousand acres.  It was last reported at 900 acres on Tuesday.

Flames are burning in heavy timber.  The fire has moved South over Dual Creek but remains South and West of Big Sand Creek Road.

Idaho Department of Lands managers are expecting more active fire behavior today.  Air operations will be taking place today while firefighters on the ground attack the flames and continue building lines.

There are 180 personnel on the Sand Mountain Fire.  It was sparked by lightning a week ago.  The fire has closed the upper Palouse portion of the Nez Perce-Clearwater National Forests.
https://pullmanradio.com/sand-mountain-fire-in-north-latah-county-continues-to-grow/