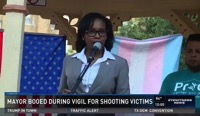 This from the ever so tolerant intolerants. 
Protesters disrupted a vigil for the Orlando terrorist attack victims in San Antonio Thursday night, heckling Mayor Ivy Taylor for not standing up for LGBT rights.

About a dozen people carried signs and shouted at her as she stood to lead the crowd in prayer, a local CBS News affiliate reported.

"You're part of the hurt! Shame on you!" one heckler yelled.

"Shame on you Ivy Taylor!" shouted another.

One sign read: "You can't use your religion to oppress us and then use your prayers to console us."

Another read: "Ivy's 'prayers' are political posturing."

Ms. Ivy, a Baptist, is a registered Democrat but has described herself as socially and fiscally conservative. While on the city council in 2013, she voted against a nondiscrimination ordinance that would prohibit discrimination on the basis of sexual orientation and gender identity.

Ms. Ivy left the vigil immediately after she was done addressing the audience Thursday night. She told the affiliate that she expected the reaction but decided to attend anyway to show solidarity.

"I came here to pray not to talk politics," she said. "Just because I may not agree on whatever, that doesn't mean that I don't believe that what happened wasn't absolutely horrific, terrible, wrong."

During the vigil, the names of the 49 victims ruthlessly gunned down by a Muslim extremist in a gay nightclub Sunday morning were read aloud, as well as a brief story about their lives, CBS reported.