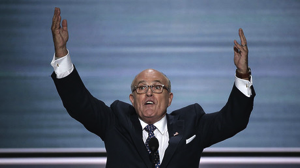 Wow! Rudy Giuliani was speaking at a Trump rally in Pennsylvania, when he made an alarming flub. As the mayor of New York City from 1994 until 2001, it was odd when he suggested that no terrorist attack had occurred prior to Obama's presidency. 
Giuliani was meant to introduce Republican presidential nominee Donald Trump in Youngstown, Pennsylvania on Monday. Instead, he introduced the first blunder of the week for the Republican campaign.

"Under those eight years, before Obama came along, we didn't have any successful radical Islamic terrorist attack inside the United States," the man once known as America's Mayor said.

Those terrorist attacks on September 11, 2001 that hit Washington, DC, New York City and a failed attack that resulted in a plane crash in a Pennsylvania field? Apparently Giuliani forgot all about them.