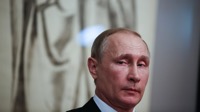 Read: only in the Russian Orthodox churches is Christianity to be discussed. 
Russia's ruling legislatures, the State Duma and the Federal Assembly, recently passed measures that would severely limit Christians' ability to evangelize.

While they were passed practically unanimously in the Duma and Federal Assembly, President Vladimir Putin will need to approve them before they are officially signed into law.

Technically the laws fall under an anti-terrorism effort, proposed by United Russia party lawmaker Irina Yarovaya. And while the laws don't claim to target any one Christian group in particular, several missionaries and Protestant evangelical leaders have pointed out that they are likely targeted at the Protestant minority of Christians. According to Christianity Today, the laws would require citizens wishing to share their faith to "secure a government permit through a registered religious organization, and they cannot evangelize anywhere besides churches and other religious sites. The restrictions even apply to activity in private residences and online."

The majority of religious Russians belong to the Russian Orthodox Church, which "is part of a bulwark of Russian nationalism," according to David Aikman, a history professor and foreign affairs expert. Aikman told Christianity Today that the work of evangelical Protestant missionaries is seen as a threat to the Orthodox Church, and therefore Russian nationalism.