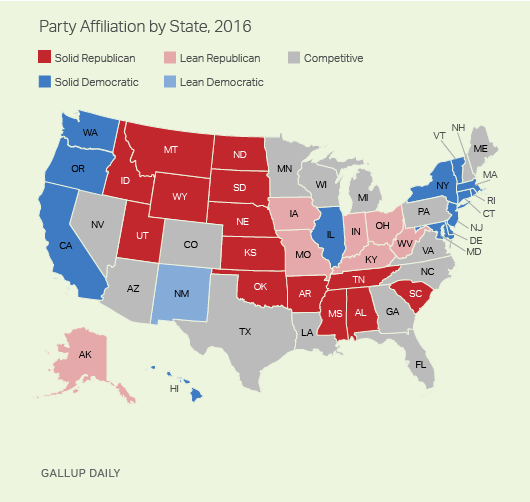 According to a new poll out from Gallup, Republican states dominate those that identify as Democratic by a full 33 percent, marking a significant flip in state-by-state politics over the last eight years.

The number of states identifying as Democratic has dropped by a full 60 percent since 2008, while the number of Republican-leaning states has more than quadrupled, according to Gallup.

The polling agency reports the number of states identified as either "solid or leaning Democratic" fell from 35 states in 2008 to just 14 states in 2016, a loss of nearly two-thirds in the eight years President Obama was in office.

Conversely, the number of states that pull more Republican rose from just five in 2008 to 21 states in 2016.

The number of so-called "competitive" states that lie somewhere in between clear party affiliations has also risen by 33 percent over that time frame, climbing from 10 competitive states in 2008 to 15 states in 2016.
Via MRCTV