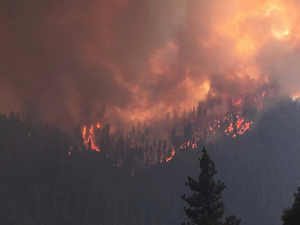 The Pioneer Fire burning in the Boise National Forest is the top priority fire in the country. It has grown to nearly 61,000 acres, and is 25 percent contained as of Sunday evening.

 

Boise County has issued level 2 evacuation notices for Lowman residents and for recreation sites west of town along Highway 17, the Lowman-Banks road. People in those areas are advised to be ready to leave, and are encouraged to head out if able and willing.

 

The Idaho Red Cross announced on Sunday that it had reopened its evacuation day-shelter at Idaho City High School. Red Cross officials said Boise County had asked them to reopen the shelter because of the rapidly changing conditions. It will be open again on Monday from 10 a.m. – 4 p.m.

 

"Once it got into the Rock Creek drainage there really wasn't going to be any way in all likelihood to stop it from coming down that drainage. It was just a matter of controlling it," Southfork Lodge owner, Chris Armour, said.

 

Southfork Lodge sits in the heart of the town of Lowman on Highway 21. Armour has only owned it for three weeks, and didn't anticipate dealing with this so soon.

 

"We did know that fire is just part of the life up here. When you come up into the mountains it's part of the ecosystem, it's part of living in a pine forest," he added.