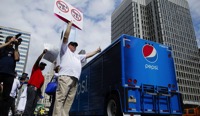 The nanny state is at it again, telling citizens what they can & cannot eat/drink. Salvation via the stomach. From The Washington Times: 
Years of shaking up the can finally led to an explosion, as Philadelphia on Thursday lifted the lid on a long-sought soda tax.

City Council voted 13-4 to enact a 1.5-cent-per-ounce tax on sweetened beverages, making Philadelphia the first major U.S. city in more than 40 attempts to approve such a measure.

Berkeley, California, is the only other city in the nation to tax the sugary soft drinks. Oakland, San Francisco and Boulder, Colorado, will vote on similar initiatives in November.

Mayor Jim Kenney spearheaded the Philadelphia plan, playing up the $91 million in revenue projected from the levy next year. He promised to spend the funds on universal pre-kindergarten and other education programs.