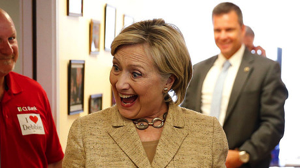 Democratic presidential candidate Hillary Clinton, who often lectured African countries about corruption as Secretary of State, now faces her own scandal for questionable ethics and the trending hashtag #PayToPlay.
A number of emails that the former first lady failed to turn over to the US government, but were released after a Freedom of Information Act request, show donors and associates of the Clinton Foundation and its Global Initiative seemingly having special access inside the State Department.

The conservative group Judicial Watch released 296 pages of unseen State Department records Tuesday, including 44 previously unreleased emails.

In 2009, the same year Hillary Clinton told Kenyans: "The government has to reform itself if Kenya will be all that it can be," Clinton Foundation official Doug Band emailed her top aides at the time, Cheryl Mills and Huma Abedin, stating that it's "important to take care of [Redacted]."

Abedin replied to Band within 10 minutes, telling him that they "have all had him on our radar" and that "personnel has been sending him options."

It is not known whose name has been redacted.
But it will be when WikiLeaks provides the non-redacted emails.
Standby…
Via RT