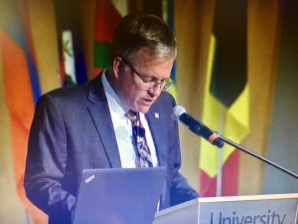 The University of Idaho president Chuck Staben delivered the State of the University Address this afternoon in Moscow. He touched on plans to increase enrollment, the football team's move to the Big Sky Conference, and research advancement plans.

Staben said a Strategic Framework Plan is in place involving innovation, engagement, and a transformation of various sectors of the University, such as research expenditure and dairy and livestock agriculture. 

The President said although the exact enrollment number for the Fall will not be counted until later this month, numbers are showing enrollment is down. 

Larger graduating classes and smaller enrolling classes in recent years are named the cause, but future numbers rely on the University's ability to increase growth while retaining current students. President Staben noted seeing an increase in first year freshman and transfer students to which he credited marketing efforts. 

By relaunching an Enroll Idaho campaign the president hopes to have raised enrollment by 50% by the year 2025. He hopes to do so through statewide campaigns that make the path to higher education easier for prospective students.

In addition, President Staben acknowledged the football team's controversial conference switch. He said the Big Sky is the right place for the team, and a good fit, as it will help them become a more competitive challenger in later years.