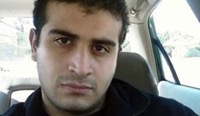 From The Washington Times: 
Family members and an ex-wife of Omar Mateen say he regularly espoused homophobic views, but regulars at the LGBT nightclub where the 29-year-old American-born Muslim gunman killed 49 while pledging allegiance to the Islamic State group described him as a routine visitor.

Others recognized him from gay dating apps, adding to the complicated and at times contradictory picture of the man behind the deadliest mass shooting in modern U.S. history.

Investigators also are questioning Mateen's second wife, Noor Salman, about the degree of knowledge she had before the attack early Sunday.

An official who was briefed on the progress of the case but insisted on anonymity told The Associated Press that authorities believe Mateen's wife knew about the plot, but they are reluctant to charge her on that basis alone.