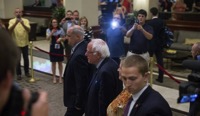 He cannot endorse her as long as the FBI Email investigation is still hanging over her head. That's his chance to win the White House. From The Washington Times: 
As the primary season officially came to an end Tuesday, Sen. Bernard Sanders met privately with Hillary Clinton — but the Vermont senator still isn't ready to offer an endorsement to his presidential primary rival.

The campaigns described the 90-minute meeting Tuesday night as positive, though neither would release much detail. A statement from the Clinton camp said the two candidates discussed income inequality, debt-free college and other issues, and that they "agreed to continue working on their shared agenda, including through the platform development process for the upcoming Democratic National Convention."

The Sanders campaign said afterwards that the senator had told Mrs. Clinton of the need to "bring more people into the political process," a reflection of the fact that Mr. Sanders believes the Democratic Party should eliminate superdelegates, allow independents to vote in all party primaries and take other steps to increase access.
The meeting in Washington came on the same night Mrs. Clinton won the District of Columbia primary in a landslide. The victory, however, was of little consequence; the former secretary of state already became the party's presumptive nominee last week when she crossed the 2,383-delegate threshold.

But even after Mrs. Clinton hit that mark and the primary season, for all intends and purposes, came to an end, Mr. Sanders has refused to officially concede and offer his endorsement. His stubbornness has rattled Democrats on Capitol Hill and left some of his high-profile progressive supporters in a difficult position, as virtually everyone in the party now agrees it's time to unite and begin plotting attacks on Republican Donald Trump.

Mr. Sanders, who will deliver a widely anticipated video address to his supporters on Thursday night, still seems set on going to the party convention in Philadelphia in July and using his leverage — including the nearly 1,900 delegates he's won this primary season — to rewrite the Democratic platform in a more liberal fashion.

Mrs. Clinton will deliver an address on national security later Wednesday in Hampton, Virginia, while Mr. Sanders has no events scheduled until his prime-time video speech on Thursday evening.