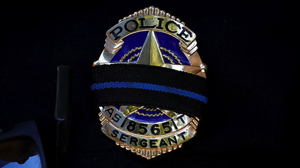 The fatal shootings of three police officers in Baton Rouge, Louisiana has pushed the number of cops killed by firearms so far this year to 31 ‒ a whopping 72 percent higher than the same period last year.
The surge in police fatalities, recorded by the National Law Enforcement Officers Memorial Fund, follows a particularly deadly month for law enforcement after the high profile killings of police officers in Dallas, Texas and Baton Rouge. Cops were also shot in Michigan, Georgia, Tennessee and Missouri in incidents that garnered less media attention.

A total 31 police officers have been killed by guns in the line of duty up thus far in 2016, compared to 18 during the same period in 2015, according to the statistics.

National Law Enforcement Officers Memorial Fund spokesman Steve Groeninger said this change was alarming.

"It's very concerning to see that firearms are responsible for more law enforcement fatalities today than this time last year," he told CNN.

Overall there have been 63 police fatalities so far in 2016, meaning firearms-related fatalities have made up almost half of all officer deaths. Out of the123 total officer fatalities in 2015, only 41 were a result of guns.

Via RT