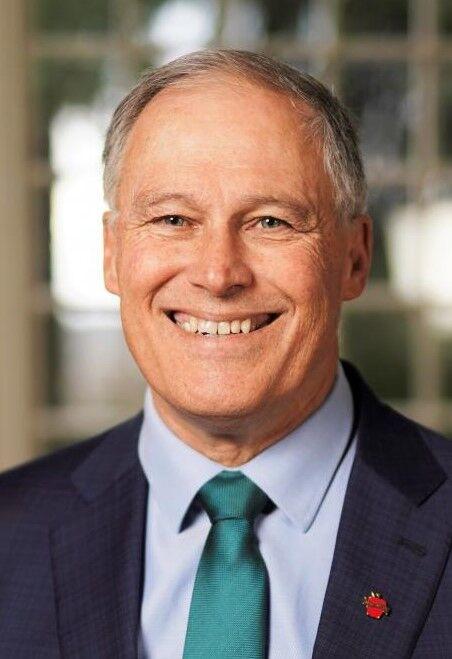 This clown is double vaxxed and double boosted. And has had Covid twice. 
OLYMPIA — Washington Gov. Jay Inslee has tested positive for COVID-19 for the second time.

Inslee's office said in a statement Wednesday that he had tested positive and was experiencing very mild symptoms including a cough. He is consulting with his doctor about whether to receive Paxlovid antiviral treatments, according to the statement.

He plans to continue working. Trudi Inslee, the first spouse, has tested negative.

Inslee, who throughout the pandemic pushed for mitigation measures including indoor mask-wearing and restrictions on large public gatherings, is fully vaccinated and had booster shots in October 2021 and March 2022 and September 2022, according to his office.

"Once again I am very appreciative to be vaccinated and boosted," Inslee said in the statement. "This is a scientific gift that has given us the capacity to prevent hospitalizations or worse. I encourage folks who haven't received their booster to talk with their doctor and avail themselves of this protective, life-saving measure."

Only 15% of Americans have received the recommended, updated booster that has been offered since last fall.

The governor also tested positive for COVID-19 last May.

President Joe Biden told Congress this week that he will end the national emergencies for addressing COVID-19 on May 11.

Inslee ended the state of emergency in Washington at the end of October.

More than 1.1 million people in the country have died from COVID-19 since 2020, according to the Centers for Disease Control and Prevention, including about 3,700 last week. More than 15,000 people in Washington have died from the virus.
https://lmtribune.com/northwest/inslee-tests-positive-for-covid-19/article_3a00c24b-0c37-54d6-ba44-2c9065bde75b.html