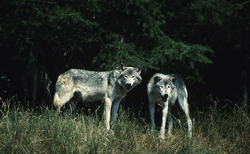 We are living in crazy times when the lives of animals are more highly valued than the lives of people.
The killing of a pack of wolves in northeastern Washington to protect cattle is producing death threats for people on both sides of the issue.

The Seattle Times reported Wednesday that researcher Rob Wielgus of Washington State University is declining further comment on the pending elimination of the Profanity Peak pack by hunters for the Washington Department of Fish and Wildlife.

Wielgus told the newspaper that his friends at the agency have received death threats.

Last week, state Rep. Joel Kretz, R-Wauconda, told the newspaper that ranchers also were receiving death threats.

Wolves were exterminated in Washington in the early 1900s. They began returning to the state in 2008 from other areas.

Six of the 11 members of the Profanity Peak pack had been killed as of last Friday.