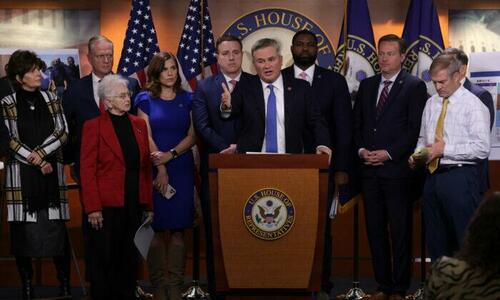 What's a deadline if there are no consequences for missing it?
The National Archives and Records Administration (NARA) failed to meet a Jan. 24 deadline to hand over materials requested by the House Committee on Oversight and Accountability relating to the discovery of classified documentsin President Joe Biden's former office, a committee spokesperson confirmed to The Epoch Times.

Oversight Committee Chairman James Comer (R-Ky.) asked Acting NARA Archivist Debra Steidel Wall in a Jan. 10 letter (pdf) to provide various information related to the classified records by no later than Jan. 24.

The information requested by the lawmaker included all related documents and communications between NARA and the White House, among NARA employees, between NARA and the Department of Justice (DOJ), and between NARA and any outside entities—including Biden's attorneys—relating to the documents found at the Penn Biden Center for Diplomacy and Global Engagement in Washington.

Those documents were initially discovered on Nov. 2, 2022, a week before the midterm elections, but the findings weren't made public until two months later.

NARA Says It Must 'Consult' With DOJ

In a statement to The Washington Examiner on Jan. 24, a committee spokesperson said GOP investigators plan to conduct a transcribed interview with NARA's general counsel soon, which would provide lawmakers with a more detailed timeline as to how the discovery of the classified documents was handled.

NARA officials didn't respond by press time to a request by The Epoch Times for comment.

On Jan. 16, Comer accused NARA of failing to be "transparent with the American people" in a post on Twitter, adding that many unanswered questions about the documents remain.

In response to Comer's Jan. 10 letter, Wall said the agency must first consult with the DOJ before it can hand over information related to the discovery of the Biden classified documents to Republican lawmakers.

"I want to express my commitment to working cooperatively with you and your staff on this and all matters of concern to the Committee on Oversight and Accountability," Wall wrote in a Jan. 17 letter (pdf) to the lawmaker. "Our desire to provide you with as much information as we can, however, must also be balanced with the need to protect Executive branch equities, particularly as they relate to ongoing criminal law enforcement investigations by DOJ."

Wall added that the agency must first consult with the DOJ regarding the release of any such records.

"DOJ has advised it will need to consult with the newly appointed Office of Special Counsel (SCO) in DOJ, to assess whether information can be released without interfering with the SCO's investigation," Wall wrote.
https://www.theepochtimes.com/national-archives-misses-deadline-to-send-biden-materials-to-house-republicans_5009163.html