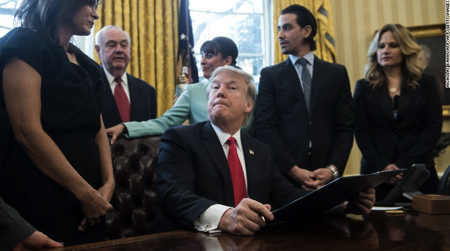 President Donald Trump last week signed an executive order on immigration that would temporarily halt the flow of refugees and visitors to the U.S. from terror-ridden countries in the Middle East and Africa.

The executive order was labeled a "Muslim ban" by the media and dissenting Democrats because the seven restricted countries are predominantly Muslim countries. 

People on social media lost their minds and protests erupted over the weekend at airports across the nation.

According to a new Rasmussen Report poll, most voters actually approve of a temporary ban on refugees and visitors from countries connected to terrorism.

The survey finds that 57 percent of likely U.S. voters favor such a ban on refugees from Syria, Iraq, Iran, Libya, Somalia, Sudan, and Yemen – at least until the federal government improves upon its ability to screen out potential terrorists.

Thirty-three percent (33%) oppose the ban and 10 percent remain undecided.

Similarly, 56 percent support a temporary ban on people with visas who are residents of said countries in the Middle East and Africa.

Along party lines, Republicans strongly support the ban, with 82 percent who poll in favor of its implementation.

Of respondents who do not affiliate with either major party, 59 percent support the measure.

Democrats (53%) strongly oppose the ban.  
Via MRCTV