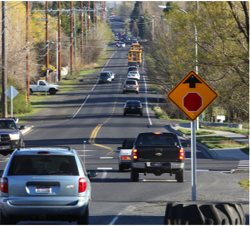 City will keep eyes peeled for new grants to help fund plans. This is not going to help alleviate the congestion where Mountain View crosses D-Street or F-Street. 
After months of waiting, the city of Moscow received bad news about a $17.6 million grant it had applied for this past spring to help pay for construction projects on Mountain View Road.

The U.S. Department of Transportation recently awarded a total of $500 million through the Transportation Investment Generating Economic Recovery Program Discretionary Grants for local government projects that focused on "capital projects that generate economic development and improve access to reliable, safe and affordable transportation for communities, both urban and rural," but Moscow won't see a penny.

Moscow city officials were hoping to combine TIGER money with an existing $6.5 million in federal funding and local matching funds to construct a series of projects in the East Moscow Multimodal Infrastructure Partnership plan, including a bridge that would cross Paradise Creek on East Third Street. The plan also calls for the widening of Mountain View Road and installing curbs, gutters, sidewalks, bike lanes, storm drainage and water and sewer utilities along the roadway.
Moscow City Councilman Art Bettge said the city will now go back to square one and keep its eyes open on future grant opportunities to help pay for the projects. Bettge said he is not aware of any grants the city is currently pursuing, but he said they tend to pop up at odd moments and the city will apply for them when they do.

Bettge said it should be easier to put together a grant package in the future since all the details of the various Mountain View projects have been hashed out.

The city's TIGER Grant application and Mountain View Road construction plans and costs can be viewed a 183-page document at this shortened link: http://ow.ly/v2et303wltW
Via the Moscow-Pullman Daily News