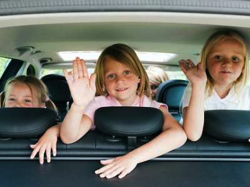 Things are out of control. 
On a 70-degree day in July, Julie Koehler was driving her three girls, 8, 5, and 4, to a bouncy house in Evanston, a suburb of Chicago. She needed coffee, so she pulled up in front of a Starbucks, opened the minivan's windows and even its sliding door to let the air in, and left the kids watching a video. She was gone for three minutes.

Thus began her ordeal with the Illinois Department of Child and Family Services.

Through the window of the Starbucks, Koehler saw a police officer walk over to her car and strike up a conversation with the girls. She assumed he was saying hi. He then disappeared. Thirty seconds later, the officer was back—and now Kohler's 8-year-old was crying. She could see him back at the car and now her 8-year-old was crying. Her 5-year-old had her hands over her ears. Her 4-year-old just froze.

Koehler flew out of the Starbucks and demanded the cop tell her what was going on. This was clearly the wrong tactic, she told me later.

"He began yelling at me, asking why I was being so 'confrontational' and demanding my information, telling me that 'most women in my situation would do anything to get out of this,'" she said in an interview.

"This" turned out to be a child abuse investigation.

 
Koehler, it so happens, is no ordinary mom: She's a public defender in the homicide division, which means she isn't easily intimidated by the police, and she asks a lot of questions. When she asked her kids what the officer had said to them, the 5-year-old said, "He asked where our mother was and I told him you were standing right there in Starbucks."

Had the officer heeded the girl and turned around, he would have seen Koehler waving, she said. Instead, he barged into the nail salon next door and demanded to know if the mother who had "abandoned" her kids was in there. (That's what the manicurist told Koehler afterward.) The answer was, of course, was no, so he returned to grill the kids some more, and that's when they started crying.

After Koehler joined the fray and refused to back down, the officer threatened to have her children taken away. This had its desired effect. Koehler became distraught. She phoned her mom and husband to drop everything and come to her, at which point the officer gave her back her ID and left, she said.

As upsetting as all this was, she believed the incident was over. She was wrong.
You really want to read the entire story. Crazy.