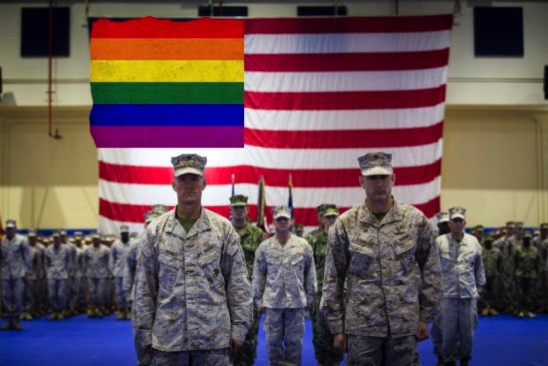 That's one way to meet your quota. 
CAMP LEJUENE — Following the repeal of the ban on transgender service members, a senior Marine Corps officer has revealed that the service has exceeded its female gender quota for Fiscal Year 2016 by forcing select males to identify as females.

Col. John Barrett, Chief of Staff of 2nd Marine Division, believes it's just another case of how the Marine Corps leads the other branches.

The Marine Corps plans to extend Barrett's gender change strategy to every unit within three months, starting with gender reassignment for all male lieutenants with art degrees. Eventually the service hopes to include all 63 genders in its recruiting goal, such as hermaphrofemales, adrogine bisexual hemaphromales and masculine female-attracted androdites.

Barrett says the full rollout will first be discussed among recent graduates of the Marine Corps Warrior School of Social Justice.

Meanwhile, some Marines assigned to the Camp Lejuene-based Second Marine Division are already noticing positive changes.

"Following Second Platoon's order that they would all now be females, we needed to quickly research how real women actually talk and behave to satisfy the chief's order," said Staff Sgt. Regina Johnson, whom formerly identified as Staff Sgt. Jose Gris.

"We started our day by telling the Equal Opportunity Officer that we felt uncomfortable around Sgt. Landry because he forces us to do physical labor. He then moved us to a different team where we complained about the gender pay gap, followed by some flirtatious texting on Tinder so some dude would bring us lunch to fuel up for our first female physical fitness test tomorrow," Gris said.

She added: "We ended the day talking shit about our friends while liking their Facebook photos, it was totally fab."
Yes, it's satire. 
Via Duffle Blog