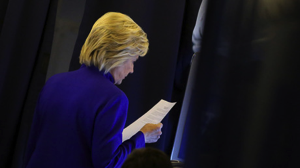 Hillary Clinton's former chief of staff, Cheryl Mills, and two other staff members, were granted partial immunity deals in exchange for their cooperation with the FBI, according to a Republican congressman.

"No wonder they couldn't prosecute a case. They were handing out immunity deals like candy," House Oversight Committee Chairman Jason Chaffetz (R-Utah) told Associated Press on Friday.

The now-closed FBI investigation was over Clinton's use of a private email server when she was secretary of state.

Chaffetz, who has been looking into Clinton's email practices, and who requested the immunity agreements from the Justice Department, said they showed Mills had given federal investigators access to her laptop on the condition that whatever they found couldn't be used against her.

Chaffetz told AP he was "absolutely stunned" that the FBI cut a deal with someone as close to the investigation as Mills, and said by including the emails recovered from the laptops in the immunity agreements, "the Justice Department exempted key physical evidence from any potential criminal case against the aides."

Mills had been among Clinton's closest confidants and voluntarily appeared last year for a lengthy interview as part of the House GOP's investigation into the 2012 Benghazi attacks that left four Americans dead.
Via RT