Mid-morning strike sets empty residence ablaze as neighbors work to save their structures.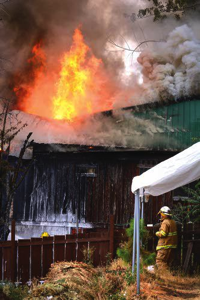 Heavy smoke and embers floated through the air during a house fire Sunday in Asotin as fire crews fought to extinguish the blaze.

The fire was reported around 9:14 a.m. at 717 Pierce St., after a flash of light and a loud boom hit the Lewiston-Clarkston Valley. The free-floating embers had neighbors standing on their roofs and in their yards spraying down their property to ensure the wayward cinders didn't spark another fire.

Asotin County Fire District No. 1 Chief Noel Hardin said nobody was in the home at the time of the fire, and that neighbors reported the owner didn't live on the property.

Neighbors reported lightning struck a tree in the yard causing a fire, and debris from the tree fell onto a vehicle and a shed, he said.

"It spread from those to the house," Hardin said.

With multiple vehicles in the yard and the fire burning fast, Hardin said, it was a labor-intensive fire to fight.