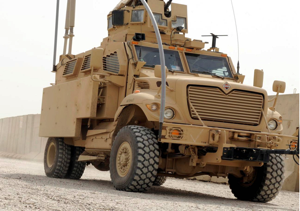 More on militarizing the peace officers in the USA. 
Sometimes you find a deal that's too good to pass up.

If it has 4-foot knobby wheels, is encased in armor with a windshield so thick it barely makes a sound when you rap it with your knuckles, all you have to pay is shipping and replacement parts are free, too, well …

That's the kind of deal Lewiston Police Department officials said they took advantage of when the department opted to pay $2,000 to ship an armored personnel carrier from a military base in Herlong, Calif., to Lewiston.

The 53,000-pound, sand-colored MRAP (mine-resistant ambush protected) vehicle, which normally has a price tag of around $658,000, came to Lewiston through a federal program that transfers military surplus equipment to police departments at no charge. The Post Falls Police Department has a similar vehicle, and Kootenai County has two.

If the 21-foot vehicle appears daunting with its slit window guards, hydraulic ramp and its weapon mounts, officials said that could change when the department removes many of the military accoutrements to give the vehicle a softer look.

Once the work is completed, Lewiston Police Chief Chris Ankeny said he plans to have an open house to show the rig off to the public. It will be used to transfer the department's SWAT team.

"I want kids to come out and climb on it like a jungle gym," Ankeny said.