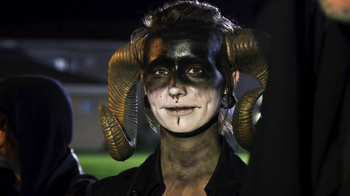 A lawyer hired by the Mount Vernon School District has advised officials to allow the Satanic Temple of Seattle to start an after-school program at one of their elementary schools.

   

The Skagit Valley Herald reports attorney Duncan Fobes said if the district were to deny the application, they would face costly litigation which would not end in their favor.

   

Fobes said the district was one of nine throughout the country, including Mount Vernon's Centennial Elementary School, to receive such applications.

   

The Satanic Temple has been targeting schools that have a Good News Bible Club. Satanic Temple of Seattle spokesman Tarkus Claypool ha said a parent brought the bible club to their attention over concerns the club was teaching children to evangelize to other children.

   

Claypool said their curriculum teaches children logic, self-empowerment and reasoning and they don't worship a deity.