I hope Chansley's lawyers sue the DoJ for a ton of money.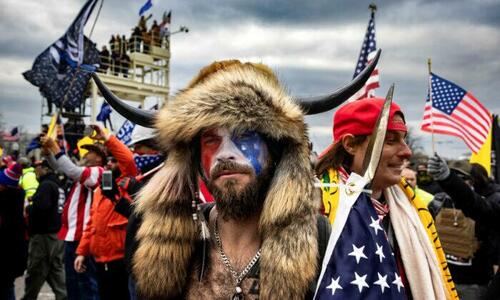 The Department of Justice's (DOJ) latest objection to allegations that it suppressed evidence in its prosecution of Jan. 6 defendant Jacob Chansley flies in the face of the Sixth Amendment, current and former attorneys of Chansley told The Epoch Times in separate interviews this week.

"They are hiding. They affirmatively are electing not to disclose [exculpatory evidence]," Albert Watkins, Jacob Chansley's former attorney that negotiated the navy veteran's 41-month sentencing agreement in 2021, told The Epoch Times on Tuesday, referring to the DOJ.

"They're doing so in a fashion which, in my opinion, gives rise to an inescapable conclusion that the Department of Justice has done more damage to our democracy by how it has treated Jan. 6 defendants than anything that had occurred on January 6."

Watkins was reacting to the DOJ's Sunday court filing on another Jan. 6 defendant's case, in which the government confronted, for the first time in court, the newly surfaced surveillance tapes of the Jan. 6, 2021, Capitol breach aired by Fox News's Tucker Carlson Tonight show.

Among these tapes was a clip showing Chansley, unarmed, walking along with several Capitol Police officers who did not attempt to remove him from the Capitol building, which Carlson said showed that Chansley was less violent on Jan. 6 than described by the government.

Despite the video records of the navy veteran's behaviour, Chansley's current and former lawyers argued that the government violated Chansley's rights by suppressing this evidence during his trial, in response to the DOJ's claims to the contrary on Sunday.

The answer to this debate is important because it shines a light on the government's prosecutorial conduct in handling Jan. 6 cases, many of which have ended with swift sentencing.

Chansley is currently serving a 41-month sentence in federal prison after pleading guilty to an obstruction charge in September 2021.
https://www.theepochtimes.com/jacob-chansleys-lawyers-confront-dojs-claim-it-didnt-suppress-jan-6-evidence_5126916.html