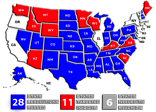 Via the AP:
Idaho has sent 10 lawmakers to a planning meeting in Arizona to debate details for carrying out a growing national effort to amend the Constitution to require a balanced U.S. budget

Idaho's top legislative leaders approved sending the Republican delegates, despite the GOP-controlled statehouse's repeated failures to pass legislation calling for a convention of states.

"There's certainly a lot of interest inside the Legislature on this topic," said House Speaker Scott Bedke, an Oakley Republican who has voted in favor of calling for a constitutional convention in the past. "It doesn't commit the state to anything, but at least this gives us some more information if this was going to happen."

The Idaho delegates include House Majority Leader Mike Moyle of Star, House Majority Caucus Chair John Vander Woude of Nampa, Senate Majority Caucus Chair Todd Lakey of Nampa and Sen. Marv Hagedorn of Meridian — who is running for the open lieutenant governor's seat in 2018.

Bedke said the six representatives he selected have been instructed to keep an open mind on the topic. Senate President Pro Tem Brent Hill asked four senators to attend.

Lawmakers will be reimbursed for their travel by the state, which typically covers out-of-state legislative expenses.

Arizona is hosting a total of 71 delegates this week, all Republicans, after sending formal invitations to each statehouse earlier this year. In total, 19 states sent delegates and a handful also sent delegate alternatives. Arizona and Tennessee sent seven delegates, Utah sent six while Alabama, Missouri and West Virginia sent just one.

The four-day meeting that began Tuesday is designed to set the stage if 34 state Legislatures approve a call to amend the Constitution through a convention. Currently, 27 states have active requests to convene a convention, all controlled by Republicans.

A convention has never successfully been used to propose an amendment. All 27 amendments that have been adopted were proposed by Congress

The goal of many of the amendment backers is to eliminate the federal deficit and drive down the national debt, which is approaching $20 trillion. The current federal budget includes spending of about $4 trillion and has a shortfall of nearly $700 billion, according to the Congressional Budget Office. Congress debated a balanced budget amendment in the early and mid-1990s, but it did not pass.

Supporters of the resolution said that every state except Vermont has some sort of balanced budget requirement and that the federal government should be held to the same standard.

This year, the Idaho Senate spent hours debating a measure calling for a constitutional convention.

With Republicans controlling the majority of state legislatures across the country, Idaho had become a prime target to become the 30th state to call for a convention of states to propose a federal balanced budget requirement.

However, the proposal failed on an 11-24 vote.