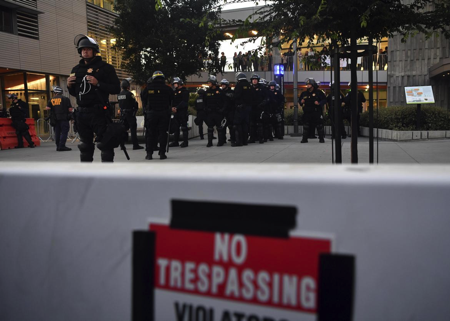 The AP spins it this way:
The city and campus have become a flashpoint this year for the country's political divisions, drawing extremist groups from the left and right.
Shapiro is an Orthodox Jew with the #1 political talk show and the #2 overall in the nation. He's no right-wing extremist, and is often critical of Donald Trump.
What Berkeley and the progressives have done is to label anyone to the right of them (which is nearly the whole country?) as right-wing extremists. It's a clever tactic, but it's failing miserably. Anyone who has ever listened to Shapiro knows that he's no Neo-nazi, fascist sympathizer.
Police in riot gear ringed the campus of the University of California, Berkeley and surrounding streets Thursday, helping to keep the peace as hundreds of protesters gathered outside a venue where a conservative was speaking at the famously liberal university.

A handful of people chanted "shame, shame, shame" at those headed into the speech by former Breitbart editor Ben Shapiro. Others held signs protesting the university's decision to host him, while dozens of others later moved in chanting against white supremacy, fascism and President Donald Trump.

Only two arrests were reported before the speech began. People were taken into custody for battery on a police officer and carrying a banned weapon.

Streets were closed and concrete barriers were erected in what many saw as the latest polarizing event to raise concerns about violence in the city.

Xochitl Johnson, an organizer with Refuse Fascism, a group protesting Shapiro's speech, attacked the university for deploying police for what she said was the creation of a safe space for fascists. She said it was wrong for the school to shut down the campus to let him speak.

Authorities sealed off Sproul Plaza – the central hub of the campus – and created a perimeter around several buildings, including the site where Shapiro was set to speak to about 1,000 people who received free tickets.

Shapiro was invited to speak by campus Republicans, who say the liberal university stifles the voice of conservative speakers.

Nick Handley, 18, a high school senior from Modesto, about 85 miles east of Berkeley, was among those lined up to see Shapiro. He said he tried to get other people to come with him, but they were afraid about potential violence.

"It really is sad," he said, referring to the heavy police presence. "This is taxpayer money. It's terrible they have to have this because a speaker wants to share his views."

UC Berkeley spokesman Dan Mogulof estimated security costs could hit $600,000 for the event. He said the school was committed to ensuring the safety of students and people attending the event, and to making it successful.
Here's an idea: have a conservative speaker at Berkeley every two weeks. They will figure out how to allow free speech, or they will go bankrupt.