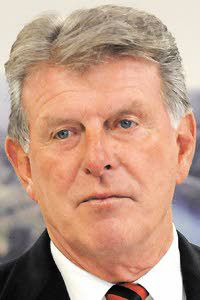 Idaho Gov. C.L. "Butch" Otter says he agrees with President Donald Trump that persecuted Christians should be treated as priority in the U.S. refugee program, despite acknowledging that such preference is discriminatory.

"It is," Otter said during an interview on Idaho Public Television's Idaho Reports. "(But) we want a safe country."

The 30-minute interview, which aired Friday, touched on the governor's thoughts on immigration, transportation and trade, but it also highlighted specifically Trump's latest actions regarding immigration and refugees.

The executive order signed by Trump suspends immigration from seven Muslim-majority countries for 90 days and all refugee resettlement for 120 days. It provides exceptions for refugees who practice a religion that makes them a minority in their home country. On Friday, however, a federal judge temporarily blocked Trump's ban after Washington state and Minnesota urged a nationwide hold on the executive order that has launched legal battles across the country. The White House said Friday night it will seek an emergency stay of the federal judge's order.

"The reason I think he did was because they were being more persecuted than others," Otter said. (See story, Page 1A)

When asked if Muslims were also persecuted, Otter said "Probably. I don't know that, but I do know that the Christians are."

Otter has been a growing critic of the refugee program, often expressing frustration that governors do not have authority to halt refugees from settling in their communities as under the Refugee Act of 1980.

In 2015, in the aftermath of the coordinated attacks in Paris, Otter called for the immediate halt of resettling new refugees until vetting rules can be reviewed and state concerns about the program can be addressed.

During Friday's interview, Otter said he hoped Trump's new vetting guidelines would allow for input from governors. Otter then urged Congress to allow states to opt out of the refugee placement program.
Via The Associated Press