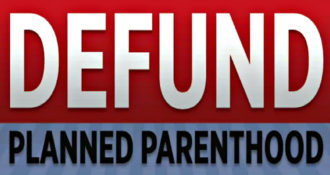 House Republicans are expected to use the Congressional Review Act to eliminate a regulation put in place by former President Barack Obama requiring states to subsidize Planned Parenthood next week.
From the Daily Caller News Foundation:
The Obama administration rule was finalized by the Department of Health and Human Services in December, prohibiting states from withholding federal grants to the women's health organization.

Republicans have long argued taxpayer dollars should not be used to fund health clinics that provide abortions. The GOP's efforts to stop the allocation of federal dollars escalated following a series of videos allegedly showing doctors discussing harvesting fetal body parts for profit in 2015.

"The federal government should not be sending taxpayer dollars to abortion providers, and it shouldn't force states to do so either," McCarthy told The Washington Examiner in a statement. "Overturning this regulation from the Obama Administration not only allows states to freely choose pro-life policies, but will protect the lives of the weakest and least powerful among us."

If the measure passes both chambers and is signed by the president, it could potentially deal a major blow to the organization's subsidies as Republicans hold power in a large number of states.

GOP lawmakers in the lower chamber have been using the Congressional Review Act, which allows the Senate to expedite the process, on a number of Obama-era regulations in recent weeks.

Republicans made it clear in their "A Better Way" agenda that balancing power between the three branches of government is a top priority and have been taking strides to rein in the executive branch.

Never publish dirty markup code and double check your content before publishing a web article!