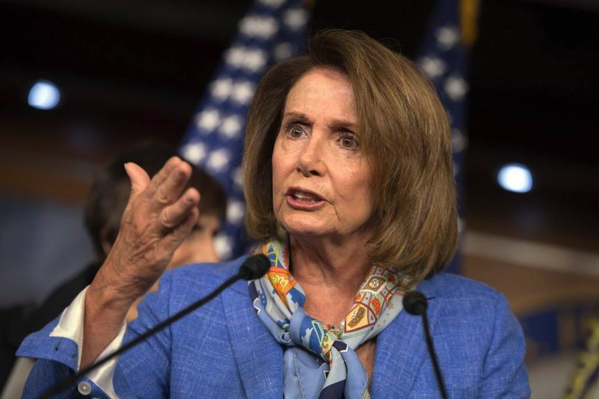 She's the best thing that Republicans have going for them in the House! 
Here's the question: would she step aside for the good of the Democrat Party? Or for her own ego stay at the helm? 
House Minority Leader Nancy Pelosi received back-handed praise Monday from House Majority Leader Kevin McCarthy.

"I kind of like having Pelosi around. As long as she's there, I think we stay in the majority," McCarthy, R-Calif., told reporters Monday. "If I'm selfish, I truly believe as long as she's the leader we keep the majority."

Pelosi, D-Calif., has been House Democratic leader for 14 years and made history in 2007 when she became the chamber's first female speaker.

But with Republicans running the House since 2011 and after Democrats won fewer seats than expected in last week's elections, some of Pelosi's charges are questioning the party's performance.

About 20 House Democrats have signed a letter asking her to delay leadership elections scheduled for this week to give them time to analyze and discuss election results, The Washington Post reported.

 
"It is vital that our Caucus take the time to listen to the American people and learn the lessons of this difficult election in order to put our Caucus in the best position to fight the potentially dangerous agenda of President-elect Donald Trump and to have a realistic chance of taking back the House in 2018," according to a copy of the letter obtained by the Post.

Pelosi announced last week that the leadership votes would be held on Thursday because "Members have indicated a strong desire to proceed with the elections…in order to prepare forcefully for the lame-duck session and the challenges we will face in January."

Meanwhile, Pelosi and House Democrats heard from Hillary Clinton on Monday. The 2016 Democratic presidential candidate thanked them for their support in a conference call.

"We have to understand what happened in this election. We have to analyze it," Clinton said, according to a read-out of the 18-minute call. "We can't be distracted or diverted in the fights ahead."

Pelosi told Clinton that "you are one of the greatest leaders in our country's history – president or not."