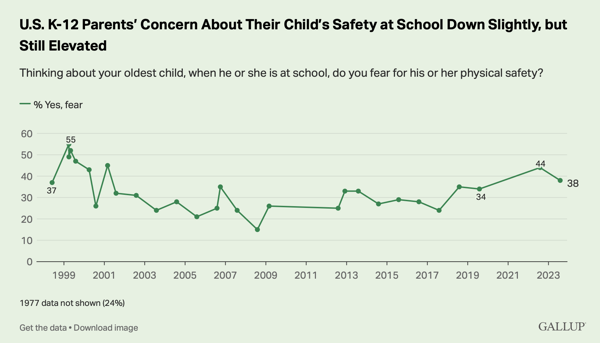 I do not understand how, if 38% of parents fear for the safety of their kids, they would still send them to government schools. 
---
STORY HIGHLIGHTS
38% fear for child's physical safety at school
Down slightly from 44% reading last year after Uvalde shooting
14% of parents say child has expressed safety concerns to them
WASHINGTON, D.C. — Parents of school-aged children in the U.S. remain more apprehensive than usual about their child's physical safety at school, as 38% say they fear for their child's safety. Although this is down slightly from the 44% measured last year in the wake of the Uvalde, Texas, school shooting, it is one of the highest readings in Gallup's trend that dates back to 1977. The historical high, 55%, was measured immediately after the 1999 Columbine High School shooting, in which two students killed 12 students and a teacher before committing suicide.
https://news.gallup.com/poll/510398/school-parent-safety-concerns-remain-high.aspx