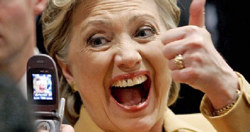 From the Associated Press: 
Hillary Clinton told the FBI she relied on her staff not to send emails containing classified information to the private email server she used as secretary of state.

The revelation came Friday as the FBI, in a rare step, published scores of pages summarizing interviews with Clinton and her top aides from the recently closed criminal investigation into her use of a private email server in the basement of her Chappaqua, N.Y., home.

The Democratic presidential nominee told the FBI she never sought or asked permission to use a private server or email address during her tenure as the nation's top diplomat from 2009 to 2013. A prior review by the State Department's internal watchdog concluded the practice violated several polices for the safekeeping and preservation of federal records.

The latest developments highlight competing liabilities for Clinton. Either she made a conscious effort to prevent a full public accounting of her tenure at State or she was nonchalant about decisions with national security consequences and risks. The first scenario plays into Republican arguments and voter concerns about her trustworthiness and transparency, while the second casts doubt on her pitch as a hyper-competent, detail-driven executive.
I would argue that it's both: she's not competent, and she's a lier.