Can't have anyone on their sites who embarrasses them. 
Facebook and Instagram have threatened to restrict or ban Project Veritas from their platforms, both owned by Meta, after a journalist confronted a senior YouTube official about the removal of a video about Pfizer's COVID-19 vaccines.

James O'Keefe, founder and president of Project Veritas, at their office in Mamaroneck, N.Y., on Oct. 31, 2017. (Benjamin Chasteen/The Epoch Times)

On Friday, the nonprofit journalism organization Project Veritas published footage that appears to show one of its reporters confronting YouTube's vice president of Global Trust and Safety, Matt Halprin.

The video shows the reporter approaching Halprin in public regarding YouTube's removal of a video featuring a senior Pfizer official, unaware he was being recorded, discussing how the company is considering mutating the COVID-19 virus to develop new vaccines proactively.

Halprin refused to answer the reporter's inquiries and instead told the reporter not to touch him while also threatening to call the police, before walking away.

"YouTube took down our Pfizer exposé. YouTube gave us a strike and will not let us post for a week," said James O'Keefe, head of Project Veritas, in a video.

Facebook and Instagram warned Project Veritas that its video of Halprin violates "Community Standards."

"We have these standards because we want everyone to feel safe, respected, and welcome," the warning said. "If your content goes against our Community Standards again, your account may be restricted or disabled."

Project Veritas also announced Friday that it had been "wrongfully locked out" of its Twitter account for two hours over a post that featured the video of one of its journalists questioning Halprin. The organization said it received a warning from Twitter that the post was "abuse and harassment."

Twitter later apologized for the move, calling it an "error," according to a screenshot shared by O'Keefe.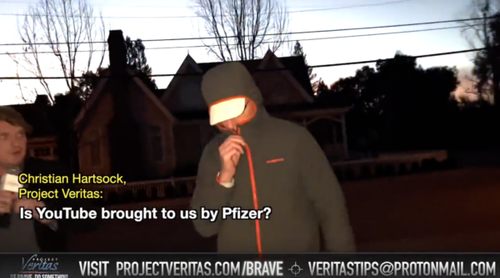 In this image from video, YouTube's vice president of Global Trust and Safety Matt Halprin avoids inquiries by Project Veritas reporter Christian Hartsock about removing a video from YouTube. (Courtesy of Project Veritas)
Via https://www.theepochtimes.com/facebook-instagram-threaten-to-restrict-or-ban-project-veritas_5033416.html