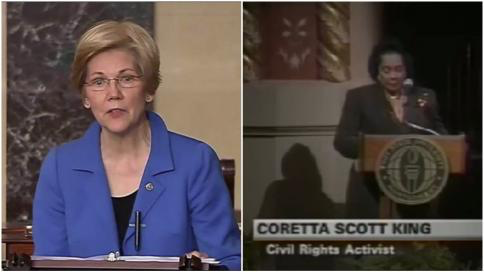 They really need to cover their tracks better! 
Flashback: The Time Coretta Scott King thanked Jeff Sessions 

Ever since last month's inauguration, Senate Democrats have been pulling out all the stops to obstruct the confirmation of Trump's cabinet nominees.

One such nominee is Alabama Senator Jeff Sessions. Liberal interest groups and politicians have wasted no time in branding Sessions as a radical racist xenophobe, cut from the same cloth as Alabama's past outspoken segregationist Governor George Wallace (whom they seem to have conveniently forgotten was actually a Democrat).

Don't believe me? Just ask the absolutely cringeworthy protestors, dressed as klansmen at his confirmation hearing.

As Sessions' confirmation has advanced, Senate Democrats have continued looking for ways to filibuster, block, and prevent a full vote on his nomination to U.S. Attorney General.

On Tuesday night, Senate proceedings got especially heated when Senator Elizabeth Warren decided to attack Jeff Sessions using a 1986 letter from Coretta Scott King, Martin Luther King's widow.
Via MRCTV