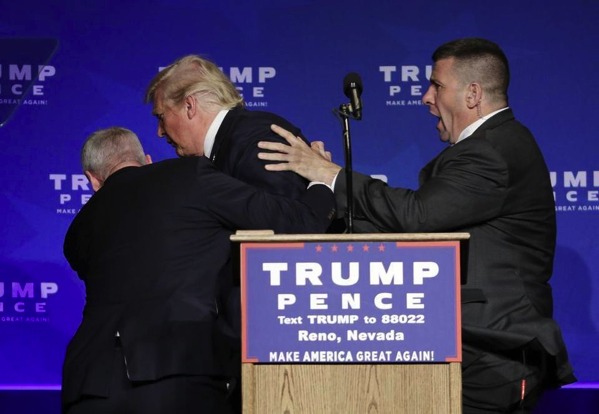 Republican presidential nominee Donald Trump was rushed from the stage at a rally in Reno, Nevada, by Secret Service on Saturday, as law enforcement tackled a man in the audience.

As Trump launched an attack on illegal immigrants and the violence he says accompanies them, Secret Service agents hustled him offstage while other agents and law enforcement officials climbed over barriers into the crowd.

According to the Associated Press, while Trump was offstage, armed officials ushered journalists out of the convention hall, allowing them back in once Trump returned to the podium.

Meanwhile, a spokesperson took the podium to say that Trump would return momentarily. After about seven minutes, Trump reappeared and briefly addressed the incident.

"No one said it was going to be easy. We will never be stopped, never ever be stopped," Trump told supporters. "I want to thank the Secret Service, these guys are fantastic."

Trump then resumed his stump speech, but when mentioning his endorsements from military officials, he referenced the incident again.

"Those Medal of Honor winners, when they saw that situation over there, they would have brushed off the Secret Service," Trump said.

Trump then seemed to speak to a specific section of the audience, thanking them for their help.

"Nobody messes with our people," he said.

After the rally, Trump's campaign issued an official statement thanking law enforcement but not commenting on the specific details of the incident.

According to Jacob Rascon of NBC News, the man who caused a disturbance in the audience is in custody and is being guarded by SWAT team members and Secret Service agents.

Jacob DelReal of The Washington Post posted a video of the man being led out of the building.
Via McClatchy