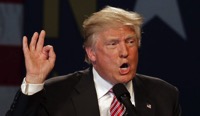 Donald Trump said Sunday that too many "red flags" were missed that could have stopped the Orlando shooter, and he proposed the use of ethnic and religious profiling to prevent terrorism.

The presumptive Republican presidential nominee said members of Muslim communities need to alert law enforcement when their neighbors or family members act suspiciously.

"People have to report when they see somebody. This man was pretty much unhinged," Mr. Trump said on CBS' "Face the Nation" program.

Omar Mateen was brought to the FBI's attention several times before June 12, when he opened fire and killed 49 people at a gay nightclub in the most deadly terrorist attack on U.S. soil since Sept. 11, 2001.

…

In arguing for more help from within the Muslim community, Mr. Trump pointed to a terrorist attack in San Bernardino, California, where family members of the husband-and-wife team neglected to report suspicious activity.

"They had bombs all over their apartment floor and people saw it and nobody reported them and 14 people were killed, many injured," he said.

Mr. Trump, who has weathered intense criticism for proposing measures targeting Muslims to prevent terrorist attacks in the U.S., said law enforcement officials should explore profiling techniques and surveillance of mosques.

"I hate the concept of profiling, but we have to use common sense and we have to use our heads," he said, adding that Israel and other countries have successfully used profiling techniques to fight terrorism.