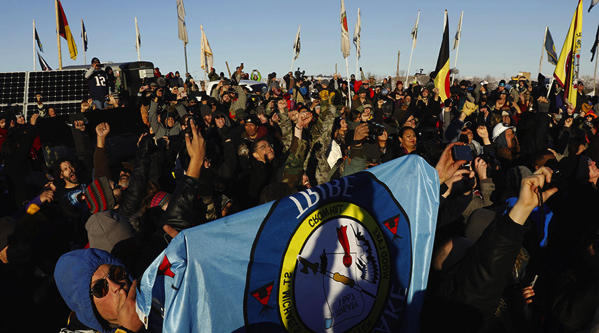 The US Army Corps of Engineers will not grant permission for the Dakota Access Pipeline to cross Lake Oahe, the hotspot of massive protests of water protectors, the Standing Rock Sioux Tribe said in a statement, adding that alternative routes are now being studied.

"The Department of the Army will not approve an easement that would allow the proposed Dakota Access Pipeline to cross under Lake Oahe in North Dakota," said a statement on the US Army website, citing the Assistant Secretary for Civil Works, Jo-Ellen Darcy.

According to Darcy, it was "clear" they needed to address concerns of tribal leaders who expressed concerns over the potential environmental impact of the Dakota Access Pipeline, and "the best way to complete that work responsibly and expeditiously is to explore alternate routes for the pipeline crossing."

"The consideration of alternative routes would be best accomplished through an Environmental Impact Statement with full public input and analysis," the Army statement said.

Standing Rock Sioux chairman Dave Archambault II has issued a statement expressing his gratitude to the Obama administration for enabling the "historic decision" to re-reroute the pipeline.

"We wholeheartedly support the decision of the administration and commend with the utmost gratitude the courage it took on the part of President Obama, the Army Corps, the Department of Justice and the Department of the Interior to take steps to correct the course of history and to do the right thing," he wrote.

The news is a massive win for the Sioux tribe that established the protest camp at the site in April and has gained huge support in recent weeks.

The pipeline was intended to pass through North Dakota's Lake Oahe, which is a burial site sacred to the Standing Rock Sioux. The tribe voiced concerns the pipeline would threaten the community's drinking water and would also damage sites of sacred significance.

Military veterans joined activists, who call themselves water protectors, at Standing Rock this week, with more than 3,500 pledging to join the demonstration.
Via RT