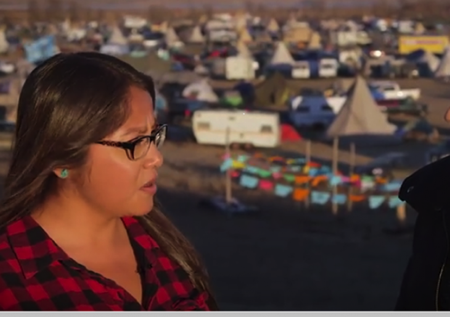 Eco-activists charged with causing soil erosion and site contamination. The Corps of Engineers has issued an eviction notice to the protesters who have plagued the construction of the pipeline . . . because they are polluting the environment.
The U.S. Army Corps of Engineers has given a evacuation order to those protesting at the Dakota Access Pipeline camp in Cannon Ball, North Dakota.

In a statement Friday evening, the Corps said it would close the Oceti Sakowin Camp, which sits on approximately 50 acres of Corps land, on Feb. 22 due to the "high potential for flooding" in the low-lying area.

The land sits at the confluence of the Missouri and Cannonball Rivers, which the Corps says puts it at particular risk of flooding after a winter of record snowfall in the region.

The Corps said oil erosion and pollution — which it attributed to the "unauthorized placement of structures, vehicles, personal property, and fires" on the land over the course of more than six months — could result in contaminated runoff into both rivers.

"As stewards of the public lands and natural resources, we have a responsibility to the public to prevent injuries and loss of life," said U.S. Army Corps of Engineers Omaha District Commander, Col. John Henderson. "We must also ensure our precious water resources are free from pollution due to human activities and respect for all who rely on this water for their livelihoods."

 
The Native American tribe leading the charge against the pipeline wants the protesters do address the contamination concerns.
The Standing Rock Sioux Tribal Council asked Dakota Access Pipeline protest camp organizers to share their plans for camp cleanup and other issues in an effort to address unsubstantiated rumors.

"I think that's what should be afforded to my community in Cannon Ball; they need to know what's going on on a month-to-month basis," said Councilman Cody Two Bears during a meeting between the council and camp leaders that was live-streamed on Thursday.

…"Because of this risk of flood, we're worried about what's going to be left at the camp," said Tribal Chairman Dave Archambault II. "What we want to do is make sure none of that waste gets into the Missouri River .
Via LI