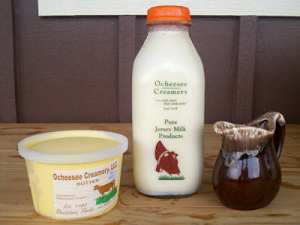 A Florida state agriculture department inspector ordered Ocheesee, a small, all-natural creamery located along the state's panhandle, to stop selling its skim milk in 2012. He claimed Ocheesee's skim milk ran afoul of Florida's standard of identity for skim milk, which requires creameries and dairies to add vitamin A to their skim milk.

Ocheesee, which prides itself on its all-natural milk, proposed to label its skim milk as "Pasteurized Skim Milk, No Vitamin A Added." The state countered with "Non-Grade 'A' Milk Product, Natural Milk Vitamins Removed" and ordered there be no mention of "skim milk" on the label. The state later changed its tune, arguing instead that Ocheesee could sell its 100% skim milk only if it were labeled as "imitation skim milk."
Food industry writer Baylen Linnekin provides the latest details in the Florida case of a small dairy producer being told it can't call skim milk "skim milk" unless it adds vitamin A. Think the dairy lobby would defend them? Think again:
This past week, a global dairy-industry lobbying group added its two cents in the case. The International Dairy Foods Association (IDFA), a Washington, D.C.-based group that "represents the nation's dairy manufacturing and marketing industries and their suppliers, with a membership of 550 companies within a $125-billion a year industry," filed an amicus brief in the case.

If you thought the IDFA might have ridden in on a milk-white horse to stick up for Ocheesee, which at last count had three employees, then you're new to how the world works. The IDFA sided with Florida regulators and against Ocheesee.