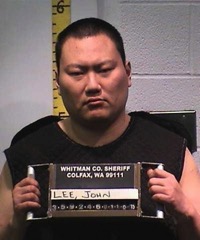 Some local Moscow news. 
Convicted murderer John Lee claims in a recently filed notice of appeal that he suffered psychological torture and was denied mental health treatment during his stay at the Latah County Jail — factors which affected his decision-making abilities and led him to take a plea deal he didn't want.

Lee was sentenced to life in prison May 24 for the three first-degree murder counts and one of aggravated battery after he accepted a deal from the state March 11 to make use of the Alford Plea, which allows him to take advantage of a plea agreement without admitting guilt. The plea took the possibility of the death sentence off the table and, in exchange, Lee waived his right to appeal.

Lee, 30, has since been in prison for the Jan. 10, 2015, shooting deaths of his adoptive mother, Terri Grzebielski, 61; his landlord, David Trail, 76; and Moscow Arby's manager Belinda Niebuhr, 47. He also shot and injured 40-year-old Michael Chin of Seattle.

According to Lee's affidavit filed in Latah County 2nd District Court on July 1, his plea should be invalidated as his untreated mental health conditions prevented him from making informed decisions.

"According to the psychologist's reports … I suffer from paranoid schizophrenia and aspergers. I sought treatment/medication with a medical kite but was never treated by any sort of mental health doctor," he said in the affidavit.

Lee wrote extensively of his sufferings in a affidavit attached to the appeal, noting he felt pressured to take the deal and that other prisoners being placed with him triggered his paranoid schizophrenia.

"I would have done more to fight the deal but I felt if I didn't accept it the guards would put someone else in the cell block with me and cause me psychological distress," Lee wrote. "Also I believe the guards used illegal methods to pressure me into taking the deal."

Lee, who claims he is sensitive to sounds, said those methods included playing the TV loudly when he was on suicide watch.

"I have autism and that is a symptom," he wrote.
Via the Moscow-Pullman Daily News