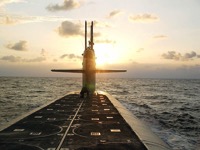 Back in 2012, the Commanding Officer of the USS Wyoming was relieved of command for mishandling classified information. 
He didn't mean to. There was no intent on his part. He unintentionally broke the law concerning the handling of classified information. 
Why do the rules that apply to everyone else in the US government not apply to Hillary Clinton? 
I'm thinking that CDR Hernandez should petition to have his "dereliction of duty" charge removed from his service record. He and everyone else who has been guilty of mishandling classified information should make "the Hillary plea." 
The commanding officer of the ballistic-missile submarine USS Wyoming was fired Feb. 4 for mishandling classified materials, just three weeks before his scheduled relief, the Navy Times reported. A spokesman for Submarine Group 10 confirmed the firing to the Navy Times on Friday.

Cmdr. Diego Hernandez was found guilty of dereliction of duty at an admiral's mast, according to the Navy Times. The spokesman declined to release details of the NCIS investigation because it is classified and ongoing.

Hernandez was replaced by Cmdr. Christopher Nash, who was already on board for the scheduled change of command, the newspaper reported.