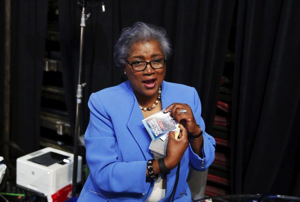 Donna Brazile resigns from CNN after it is discovered she passed debate questions to Hillary Clinton.
CNN quietly cut ties with Donna Brazile, the acting Democratic National Committee chair and a longtime contributor on the cable news network, after hacked emails published by WikiLeaks revealed that she had provided questions to the Hillary Clinton campaign in advance of a town hall and debate hosted by CNN during the Democratic primary.

According to a spokeswoman for the network, CNN accepted Brazile's resignation on Oct. 14.

The emails showed that Brazile — whose role as a CNN contributor was suspended in July after she took over for departing DNC chair Debbie Wasserman Schultz — shared with the Clinton campaign a question that would be posed to Clinton before the CNN Democratic Debate in Flint, Mich., in March, and another before a CNN town hall in Columbus, Ohio, a week later.

The network vehemently denied giving Brazile access to debate questions in advance.

"CNN never gave Brazile access to any questions, prep material, attendee list, background information or meetings in advance of a town hall or debate," the spokeswoman, Lauren Pratapas, said in a statement. "We are completely uncomfortable with what we have learned about her interactions with the Clinton campaign while she was a CNN contributor."

Brazile has appeared as a guest on Yahoo News' live coverage of campaign events, including the recent presidential debates, but was not paid for any of those appearances.

Brazile did not respond to a request for comment.