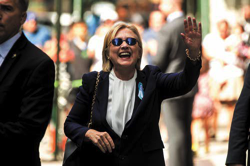 Hillary Clinton's stumbles as she left Sunday's 9/11 memorial ceremony put her health at the forefront of a presidential campaign in which the two major party nominees are among the oldest ever and have disclosed a limited amount of information about their medical history.

The Democratic presidential nominee "felt overheated" and left the ground zero ceremony after about 90 minutes, her campaign said. A video of her departure show Clinton appearing to stumble as three staff members hold her up and help her into a van.

While the former secretary of state later emerged from her daughter's nearby apartment, saying she was "feeling great," the episode focused attention on Clinton's health with eight weeks remaining in a contentious election in which Republican rival Donald Trump has sought to sow doubt about her health and fitness to serve.

Trump has repeatedly questioned Clinton's health, telling supporters last month she "lacks the mental and physical stamina" to serve as president and fight Islamic State militants.