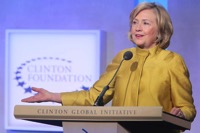 Maybe the Russians will tell us all the dirty little secrets that the Clinton Foundation is keeping hushed up? 
Or maybe they will start to release classified emails from her personal server? That could be a November Surprise for Hillary.  
Via Bloomberg: 
The Bill, Hillary and Chelsea Clinton Foundation was among the organizations breached by suspected Russian hackers in a dragnet of the U.S. political apparatus ahead of the November election, according to three people familiar with the matter.

The attacks on the foundation's network, as well as those of the Democratic Party and Hillary Clinton's presidential campaign, compound concerns about her digital security even as the FBI continues to investigate her use of a personal e-mail server while she was secretary of state.

A spokesman for the foundation, Brian Cookstra, said he wasn't aware of any breach. The compromise of the foundation's computers was first identified by government investigators as recently as last week, the people familiar with the matter said. Agents monitor servers used by hackers to communicate with their targets, giving them a back channel view of attacks, often even before the victims detect them.

Before the Democratic National Committee disclosed a major computer breach last week, U.S. officials informed both political parties and the presidential campaigns of Clinton, Donald Trump and Bernie Sanders that sophisticated hackers were attempting to penetrate their computers, according to a person familiar with the government investigation into the attacks.

The hackers in fact sought data from at least 4,000 individuals associated with U.S. politics — party aides, advisers, lawyers and foundations — for about seven months through mid-May, according to another person familiar with the investigations.