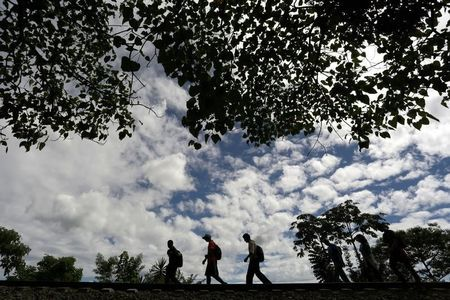 Via Yahoo!News: 
Central American countries warned on Thursday that large numbers of migrants have fled their poor, violent homes since Donald Trump's surprise election win, hoping to reach the United States before he takes office next year.

…

Trump's tough campaign rhetoric sent tremors through the slums of Central America and the close-knit migrant communities in U.S. cities, with many choosing to fast-forward their plans and migrate north before Trump takes office on Jan. 20.

…

Since Trump's victory, the number of people flocking north has surged, Central American officials say, contributing to a growing logjam along the southern U.S. border.

"We're worried because we're seeing a rise in the flow of migrants leaving the country, who have been urged to leave by coyotes telling them that they have to reach the United States before Trump takes office," Maria Andrea Matamoros, Honduras' deputy foreign minister, told Reuters, referring to people smugglers.

Carlos Raul Morales, Guatemala's foreign minister, told Reuters people were also leaving Guatemala en masse before Trump becomes president.

…

U.S. Department of Homeland Security Secretary Jeh Johnson said earlier this month immigration detention facilities were holding about 10,000 more individuals than usual, after a spike in October of migrants including unaccompanied children, families and asylum seekers.

…

Victoria Cordova, who was deported from the United States in 2014, said Trump's victory had sown fear in her poor hillside slum in the capital Tegucigalpa.

"People are very worried because many of them have family over there in the United States, and they live off the remittances they send," she said.

The foreign ministers of Mexico, El Salvador, Honduras and Guatemala met on Monday to formulate a strategy to protect their migrants in the United States, in a show of regional solidarity.