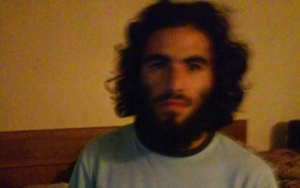 A 25-year-old California man will spend the next three decades in prison for trying to join ISIS — and his bloodthirsty co-defendant is up next.

Nader Elhuzayel, of Anaheim, was sentenced to 30 years in prison Monday for conspiring to aid a foreign terrorist organization.

U.S. District Judge David Carter noted Elhuzayel's repeated mention of martyrdom makes him "especially dangerous."

"There's no remorse, no repudiation of ISIL, only death and destruction," Carter said.

Elhuzayel was convicted in June together with Muhanad Badawi. The two wannabe terrorists plotted to travel to Syria where they were hoping to become martyrs.

Badawi has been making headlines for hunger striking in the weeks running up to his trial. He could get up to 35 years in prison when he's sentenced in October.

Badawi allegedly used college grants to help Elhuzayel purchase a plane ticket to the Middle East while Elhuzayel allegedly deposited stolen checks in his bank accounts.

Both men's attorneys have argued their defendants were all talk and no action, and never actually intended to fight for the Islamic State.
Via the Daily News