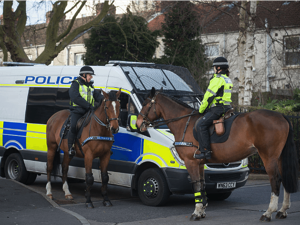 It would be interesting to look at the actual data of who needs protection.
Breitbart reports: 
Bristol has stepped up police presence in the city center to combat potential Islamophobia in the wake of the Berlin terror attack.

Area commander for Bristol, Chief Superintendent Jon Reilly, confirmed that extra officers have been deployed to prevent 'hate crime'.

"Following previous terror attacks across mainland Europe we have seen an increase in the number of reported Islamophobic hate crimes in the Avon and Somerset area.

"We have subsequently increased patrols in areas of Bristol which have high footfall in order to provide additional reassurance and to act as a visible deterrent. We also hope it will aid and encourage reporting of any hate crimes or incidents should they occur.

…

 

Two Muslims have been murdered this year in religiously motivated attacks, but in both cases the perpetrators were Muslim fundamentalists. Following the murder of Asad Shah, who was stabbed just hours after wishing Christians a Happy Easter on Facebook, the victim's family was forced to go into hiding. Posts appeared online celebrating the murder, and Muslims showed up to the trial to congratulate the killer and chant their support in the courtroom.

 

Police have been accused of reluctance to act on hate crimes when the perpetrator is from a minority ethnic group. An Asian family who converted to Christianity said they have effectively become prisoners in their own home, even after being forced to move twice, as a result of a campaign of vandalism and harassment at the hands of Muslims who regard them as blasphemers.