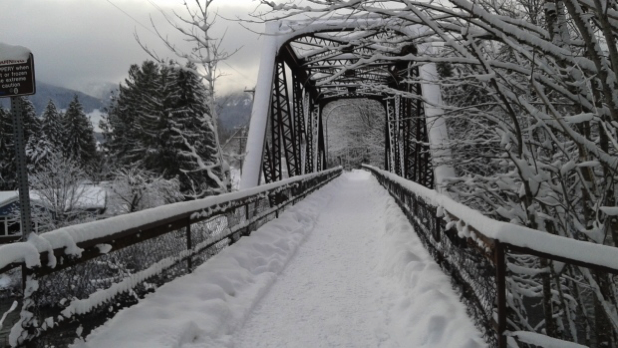 More counterexamples. Via CTV News: 
Many snowfall records broken on Vancouver Island
February 2017 will go down as one of the snowiest Februaries on record in Victoria, B.C. As of February 9, a total of 32.8 cm had been measured at the YYJ weather station, making 2017 the 3rd snowiest February since 1978.

And we're not even halfway into the month.

To put this in perspective, if you look at meteorological winter (Dec-Jan-Feb) the seasonal average amount of snow in Victoria is 31.0 cm. So, yes, Victoria got an entire winter season's worth of snow from Feb 3 to Feb 9.

Not just in Victoria, a "wicked" winter storm blasted Vancouver Island, B.C. on February eighth and ninth.

At Comox airport 140m miles north of Victorai, snowfall records were broken on both days,

On Feb 8, the Comox airport recorded 8 cm, handily beating the previous record of 7.4 cm set in 1948. More impressive was the Feb 9 snowfall of 18 cm, almost double the 9.7 cm that fell in 1975.

Meanwile, Nanaimo's 12 cm of snow on Feb 8 easily bested the 7.4 cm record set in 1994.

With 27.8 cm of snow, Campbell River smashed the previous Feb 8 record of 17.4 cm set in 2001 by more than 150 percent.

At 20.2 cm, Powell River almost doubled the previous February 8 snowfall record of 12.7 cm set in 1975.