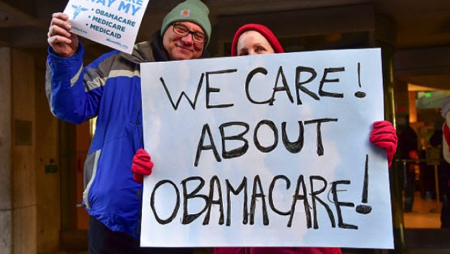 400,000 fewer Americans signed up for Obamacare health insurance on the federal healthcare.gov website in 2017.
Despite The Democrats decrying the Trump administration for its efforts to repeal and replace President Obama's Affordable Care Act, it seems around 400,000 fewer Americans decided for themselves that Obamacare wasn't for them in 2017.

As Axios reports, Obamacare enrollment for this year appears to have ended slightly down from last year, according to enrollment numbers released this afternoon by the Centers for Medicare and Medicaid Services.

 

 

The agency said about 9.2 million people signed up in the 39 states that use the federal HealthCare.gov website by Jan. 31.

 

While that's not a total enrollment figure, 9.6 million people signed up through that website at the end of last year's open enrollment.

It's the first indication that the Trump administration's opposition to the law, and its decision to pull TV advertising, may have had an impact, since the pace of enrollment had been ahead of last year's until mid-January.

For context:

New customers in 2017: 3 million
New customers in 2016: 4 million

Just before the numbers were released, an HHS spokesman from the Trump team released a statement declaring that "Obamacare has failed the American people, with one broken promise after another."

 

 

"As noted in the report today from [the Centers for Medicare and Medicaid Services], premiums in the ACA marketplace have increased 25 percent while the number of insurers has declined 28 percent over the past year," he added.

 

"We look forward to providing relief to those who are being harmed by the status quo and pursuing patient-centered solutions that will work for the American people."

As The Hill adds, The Trump administration did not release enrollment numbers for all 50 states, so it is not clear how the nationwide signup numbers compare to the Obama administration's target of 13.8 million signups across all 50 states. The administration said it would release more information on nationwide enrollment in March.

Democrats pointed to a drop-off in signups at the end of the enrollment period as evidence that the Trump administration's cancelation of ads hurt sign-ups.

Federal marketplace signups, Jan. 15-31, 2017: 376,260
Federal marketplace signups, Jan. 24-31, 2016: 686,708

So what the Democrats are saying is that without spending millions to advertize the benefits of Obamacare – after years of discussion and explanation – notably fewer people are interested in it, or believe they need it (or are willing to spend money on it).
Via ZeroHedge