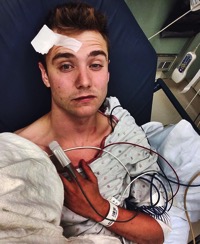 Remember that for the Progressives, it's not important that something actually happened, but that it could have happened…
An openly gay YouTube star claiming to be the target of a hate crime may have faked his own assault.

The Los Angeles County Sheriff's Department said Tuesday that Calum McSwiggan's claims of assault were unsubstantiated and that he injured himself in prison after being arrested on suspicion of vandalism.

The self-proclaimed LGBT lifestyle YouTuber wrote on Instagram that he was brutally beaten by three men in West Hollywood after visiting a gay club following VidCon.

"The authorities should have been there to help and protect me but instead they treated me like a second class citizen," he captioned a photo of himself bandaged in a hospital bed. "With three broken teeth and six stitches in my forehead, I've never felt so terrified to be a gay man in the public eye."

The L.A. County Sheriff's Department said in a statement that deputies that responded to the scene of the alleged hate crime early Monday "were unable to substantiate the assault."

They said McSwiggan "had no visible injuries" when he was arrested on Monday around 2:30 a.m. "after deputies observed him vandalizing a car." He was booked for vandalism with property damage greater than $400 and held on $20,000 bail.

"Mr. McSwiggan's booking photo was taken prior to deputies seeing Mr. McSwiggan injuring himself," according to the sheriff's department statement. The photo shows no visible injuries.

The 26-year-old  "was then observed injuring himself with the handle and receiver to a payphone" alone inside his jail cell at the West Hollywood Station. He was taken to the hospital for treatment, sheriff's officials said in a statement.